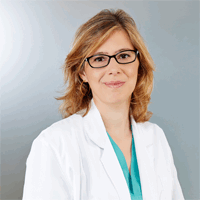 Sofia Gouveia Nunes
PhD
Diretora do Laboratório de FIV
Especialidade: Laboratório FIV
Embriologista
Clínica IVI Lisboa
Formação:
Doutorada em Bioquímica-física pela FCT-UNL.
Licenciada em Bioquímica pela FC-UL.

Atividade de cuidado
Diretora do Laboratório de Fecundação in vitro do IVI Lisboa desde 2006
Embriologista no IVI Valencia de 2004-2006

Atividade de ensino:
Professora convidada na Cooperativa de Ensino Superior Egas Moniz
Atividade científica:
NMR metabolic profile of human follicular fluid". Eva Piñero-Sagredo, Sofía Nunes, Mª José de los Santos,Bernardo Celda, Vicent Esteve. NMR in Biomedicine 06/2010; 23(5):485-95.
"An NMR structural study of nickel-substituted rubredoxin" Brian J Goodfellow, Iven C N Duarte, Anjos L Macedo, Brian F Volkman, Sofia G Nunes, I Moura, John L Markley, José J G Moura. European Journal of Biochemistry 12/2009; 15(3):409-20
"Air bubble location inside the uterus after the transfer: is the embryo really there?" Sérgio Reis Soares; Catarina Godinho, Sofia G. Nunes, António Pellicer. Fertil Steril Nov. 2007
"Multinuclear magnetic resonance studies on the chemical interaction of a self-etching adhesive with radicular and coronal human dentin" T. G. Nunes M. Polido M, A, Amorim, S. G. Nunes, M. J.Toledano Mater Sci Mater Med. 2007 Oct;18(10):2093-9.
"Resonance assignments for the hypothetical protein TA0938 from Termoplasma acidophilum" Daniel Monleón, Sofia Nunes, Vicent Esteve, Adelinda Yee,Cheryl Arrowsmith, Bernardo Celda. Journal of Biomolecular NMR 02/2006; 36 Suppl 1:36.
"Zinc-substituted Desulfovibrio gigas desulforedoxins: resolving subunit degenerany with non-symmetric pseudocontact shifts" Brian J. Goodfellow, Sofia G. Nunes, Frank Rusnak, Isabel Moura, Carla Ascenso, José G. Moura, Brian F.Volkman and John L. Markley, Protein Science (2002) 11: 2464-2470. "High-Resolution Solid-State NMR Studies of Dentin Collagen-HEMA Interaction" Teresa G. Nunes*, Sónia Gama Pereira, Sofia G. Nunes and Jorge Perdigão, Annals of Magnetic Resonance (2002) 1: 9-14.